Back to School & Open House Nights
Back to School Night and Open Houses are scheduled two to three times a year and are a wonderful opportunity for parents, students, and teachers to come together as a community to see what instruction takes place during the first hour of each school day In the classrooms, parents will observe their child(ren) involved in a schedule of tasks and in whole class instruction. Our Open House at the end of the school year allows parents and students to view special exhibits, art work, and school projects in each of the classrooms.
Catholic Schools Week

Catholic Schools Week is January 28, 2018 through February 2, 2018.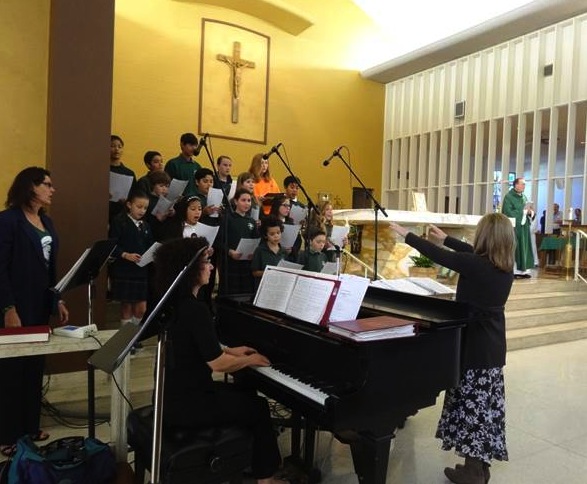 Students participate in the Sunday, 9am Mass.
The theme, "Catholic Schools: Communities of Faith, Knowledge and Service," encompasses several concepts that are at the heart of a Catholic education. First, schools are communities—small communities in their own right, but also members of the larger communities of parish, town, state and nation. They are, in the first place, communities of faith, where children are openly taught about God, where God is worshiped regularly and where students and faculty put their faith into practice on a daily basis. Secondly, Catholic schools exist to pass on knowledge, not just the practical knowledge of reading, writing, arithmetic and so on, but also knowledge of God and truth, which is our spiritual heritage as Catholics. Finally, Catholic schools are communities of service, places where helping one another and aiding the needy are the the normal way of living life.
Sixth Grade Camp February 14-16, 2018

All sixth graders attend camp at Astrocamp in Idyllwild, CA. Specializing in astronomy and the physical sciences, Astrocamp meets the increasing demand for up to date education on these rapidly advancing fields of science. Classes include light and lasers, rocketry, electricity and magnetism, and a sophisticated observational astronomy evening program, among many others. Astrocamp also has a large pool for microgravity classes and high ropes course for team building. The entire Astrocamp experience is designed to awaken and sharpen student interest in the scientific study of the universe as well as build self-esteem and problem solving skills through safe challenge activities.
Grandparents' Day
Grandparents' Day is scheduled for May 11, 2018. This traditional event provides the Academy community with the opportunity to honor and show their appreciation for grandparents and great-grandparents. Students look forward to this day each year. Invitations are sent in early April.
Schedule of Events
8:30am – School Mass (all are welcome)
9:30am – Academy and Preschool opens for grandparents only. Classroom visits / food stations / family photos
10:45am – 12pm – Class entertainment program in the parish hall.
Noon – school dismissal (no afternoon day care)
Graduation Information
SCHEDULE OF GRADUATION ACTIVITIES:
Final School Mass • June 9, 2017
Farewell Assembly • June 14, 2017 @ 1:15pm
No school for 8th grade • June 15, 2017
Individual & Class Pictures before Graduation Mass @ 3pm on June 16, 2017
Mass & Awarding of diplomas